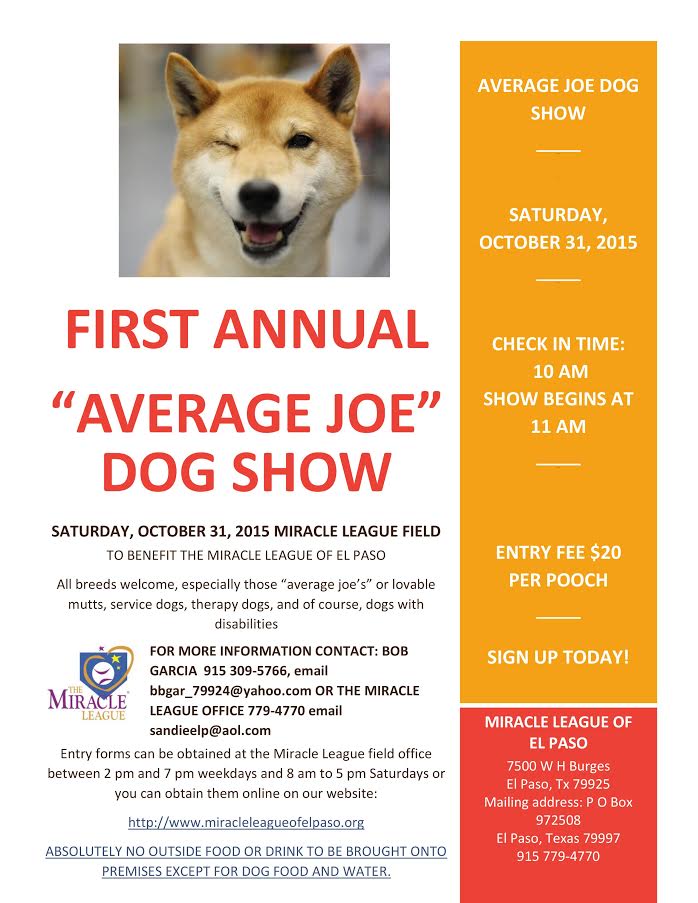 FIRST ANNUAL "AVERAGE JOE" DOG SHOW
SATURDAY, OCTOBER 31, 2015
MIRACLE LEAGUE FIELD
TO BENEFIT THE MIRACLE LEAGUE OF EL PASO
All breeds welcome, especially those "average joe's" or lovable mutts, service dogs, therapy dogs, and of course, dogs with disabilities.
CHECK IN TIME: 10 AM SHOW BEGINS AT 11 AM
ENTRY FEE $20 PER POOCH
SIGN UP TODAY!
FOR MORE INFORMATION CONTACT: BOB GARCIA 915 309-5766, email bbgar_79924@yahoo.com OR THE MIRACLE LEAGUE OFFICE 779-4770 email sandieelp@aol.com
Entry forms can be obtained at the Miracle League field office between 2 pm and 7 pm weekdays and 8 am to 5 pm Saturdays or you can obtain them online on our website: www.miracleleagueofelpaso.org
ABSOLUTELY NO OUTSIDE FOOD OR DRINK TO BE BROUGHT ONTO PREMISES EXCEPT FOR DOG FOOD AND WATER.
MIRACLE LEAGUE OF EL PASO
7500 W H Burges
El Paso, Tx 79925
Mailing address: P O Box 972508, El Paso, Texas 79997
915 779-4770